Healthcare Real Estate
Buyers Guide 2021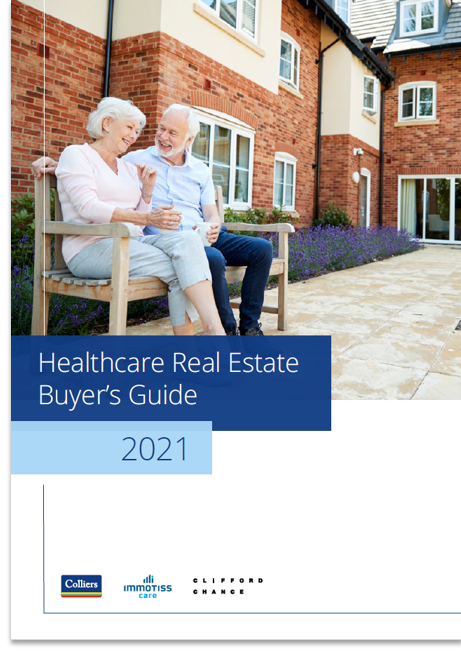 The further development of the European taxonomy regulation will make healthcare properties a more important alternative asset class going forward. The prime yield for care properties has fallen by over 100 bps over the last four years and a further fall decrease yields is expected for 2021. Whilst the yield compression confirms the increasing interest in the sector, the transaction volume cannot fully reflect this trend due to the limited supply of investment products.
Colliers is aware of the rapidly growing requirement for advisory services related to healthcare properties. In co-operation with the healthcare, care, and retirement living specialist immoTISS care and law firm Clifford Chance, we have produced this health­care investment Buyer's Guide offering an ideal combination of relevant information for investors and sellers. In a nutshell: real estate and transaction expertise meets healthcare specialists!
Download the Healthcare Real Estate Buyer's Guide 2021 here:
By registering to download this study you give our company permission to send you information on commercial properties and related topics. This information may include market reports, sales particulars and newsletters. We will store your data in compliance with data protection regulations.
For information regarding Art. 13 EU General Data Protection Regulation (EU GDPR) click >> here
"The social impact investing component gives healthcare real estate an additional momentum."